The multi-mode electronically scanning radar that enables Adaptive Cruise Control (ACC), can also enable forward collision warning with pre-crash sensing, brake support and headway alert, helping reduce cost and make the innovative safety systems consumers desire more affordable.
ACC automatically adjusts vehicle speed to maintain a driver specified headway gap from the vehicle ahead. With Stop & Go, the usefulness of ACC is expanded for high-congestion, stop and go traffic. ACC with Stop & Go manages speed to a complete stop and resumes the set speed based on driver input such as touching the gas pedal or resume button. Headway Alert even warns drivers when their vehicle is less than one-second away from the vehicle ahead, helping them to avoid tailgating.
Forward Collision Warning alerts drivers to slower moving and stopped traffic ahead so that they can take evasive action, while pre-crash sensing and brake support enhance occupant protection by helping to reduce the severity of unavoidable frontal crashes.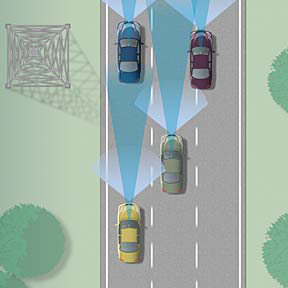 Benefits
Makes cruise control more use-able in most traffic conditions resulting in a more relaxed driving experience
Helps relieve driver fatigue induced by congested and stop-and-go traffic
Manages vehicle speed and headway gap using throttle control and limited braking (up to 0.3 g), including fully stopped conditions
Conveniently manages vehicle speed and headway gap
Complements vehicle styling Operates under a wide range of environmental conditions (dirt, ice, daylight, darkness, rain, and fog)
Electronically scanning radar (ESR) enables the following features:
Adaptive Cruise Control with Stop & Go
Enhances driver convenience
Reduces driver workload
Forward Collision Warning
Helps reduce the potential for an accident and injury
Helps reduce the potential for property damage
Brake Support
Helps reduce the potential for an accident and injury
Helps reduce the potential for property damage
Headway Alert
Provides distance information
Alerts driver when the preset time-gap to vehicle ahead is violated